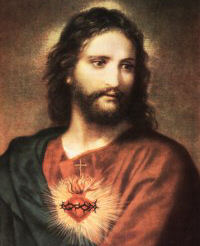 If you had been present at Christ's Crucifixion, if you had seen the nails, the thorns, and His Agony... would not this image stick with you for the rest of your life? Wouldn't you see Him in your sleep, and in your work... every time you saw a piece of wood or a loving child or someone who is ill? In the Mass, we not only see a living sign of this sacrifice, but we participate in it! How would you remember His Passion if it was you who hammered the thorns into His head? If it was you who, rather than loving Him from the foot of the Cross and crying at His death, were nailing Him to the Cross? We do this through our sins. Yet, how much more would you love Him if you had heard the words from His Mouth, just after this horrible deed: "Father, forgive them, for they know not what they do." and felt His loving gaze upon you as He breathed His last?

He suffered in Agony, alone and at night, as He took the burden of sin from us, knowing the intensity of His Sacrifice and how we would despise His love. Knowing the fewness of those who would allow themselves to be saved by His Sacrifice, He received the mocking of the soldiers in patient misery, too deeply in love to relieve Himself of the debt of even one sinner destined to hell. Far beyond the limits of human endurance physically, and spiritually beset by the greatest darkness, He allowed each treacherous snap of the pointed whip which tore at His already broken and bleeding body. From His throne of pain, in His purple robes of Sacrifice, and His crown of detestable thorns He gazed with tears at those who would despise His love and care, but could not cease to love. As He walked alone, tired and dying, and carrying on His shoulders a world of evil and pain, He could not see in the crowds even those who were His closest friends, and knew that the love returned to Him would not be strong. But still He loved, and still He walked, deciding with each step His entire sacrifice that would perpetuate until the end of time for those whom He could not forget. Perhaps He thought for a moment that it would be better if He simply died... but in His perfect obedience to the Father, He went on to be crucified. He was stripped of everything, and mounted on a Cross of pain, from which His body, an image of weakness and pain, completely gave itself up for our love. His Kingdom and His Power He gave up completely as He said "I thirst." That is, "I thirst, not for relief to my pain... not for my Kingdom... not for happiness... not for my Father... not for those who have never sinned... but for YOU."

I have often longed to be present at Christ's Crucifixion, and to see what He suffered out of love for me. Every now and then the Divine Reality awes my mind with its strength, and with its mystery. Jesus' gift was perfect... it never ends, and never grows old, as He continues to perpetuate His Sacrifice. If it had been simply a man who offered the gift of his life for his fellows, he would be anxious to have the suffering "over with" and it would end with his death. This is not so with our Divine Savior, who gave us the Body and Blood of this perfect Oblation for our food and drink. If it had been simply a man who offered to take the burden of guilt from the shoulders of his friends, he could only take this burden from a few. But our Divine Savior lifted the burden from men past, present, and future and took it completely upon Himself! If it had been simply a man who forgave his persecutors, he would not love them with the intense love that Jesus did or die to save them. But Jesus loved even those who nailed Him to the cross wholly and completely... He was willing to unite Himself to them in a bond of love, and died to give them the opportunity to be with Him in heaven.

How much greater are His love and His suffering than we can begin to imagine! How much greater is HE than our human minds can begin to fathom. Before Him, all rulers and wonder workers and men of wisdom are as ants are to the expanse of the skies. When Jesus offered this sacrifice, it was not simply a sacrifice... but it was the

greatest gift of love that the Almighty King of heaven and earth could offer, and He continues to offer it daily.

The immensity of this gift is indescribable!

Christ, who held on His shoulders the burden of all man's sin, was absolutely abandoned at the moment of His death. When we have sinned, even greatly sinned, our guilt is turned away and consoled by the forgiveness of our Savior. But who offered Him forgiveness and love? Who received Him, innocent of any crime yet clothed with all guilt, into loving arms? He is the lover and the savior in the truest sense of the word. The Most High, the All Powerful, made Himself

vulnerable to our love!

So great was His Sacrifice, His self-gift to us, that when we meditate on His Passion we are first awed by His foolishness to die and suffer the Supreme Suffering for those who despised His love, and then astounded by the realization of the intensity and depth of His love. What love is this!? What love could make so unthinkable a sacrifice?

If we had been present at the Crucifixion... or if we recognized this great sacrifice and burning love in the Mass, where Christ Himself comes to perform for us the greatest gift of His Love... would we ever forget it? Would we ever cease to remember the gaze of His eyes, so full of love and pain? Would we ever look upon the artificial and superficial world the same? Would we ever be satisfied with simply living, instead of absolute holiness and the highest depths of prayer? Would we openly resist and despise His love ever again and not fall into the deepest union of love? Would we mock His open arms, and His voice beseeching us to be happy? Would we close our ears to His Promises of happiness sweeter than we can imagine, or turn away from His Hands offering great gifts for simply our faith in return? Would we be dry eyed and keep within ourselves a stony heart, unmoved by the Lamb's patient suffering? Indeed, would even a day, an hour pass when we did not meditate on His Passion?


Agnus Dei, qui tollis peccata mundi 


  miserere nobis.


Agnus Dei, qui tollis peccata mundi 




  miserere nobis.




Agnus Dei, qui tollis peccata mundi 




  dona nobis pacem